• December 21, 2006 •
Indepth Review of Windows Vista.
Part II: Windows Vista Product Editions & Pricing
By: Arie Slob
With the release of Windows Vista, Microsoft is offering users a choice of six product versions, not counting the 'special' versions for the European Union and Korea (the so-called N and K editions).
Below I will give a breakdown on the most important differences between the versions.
First, let's list the versions and their estimated retail pricing as announced by Microsoft last September.
| | | | |
| --- | --- | --- | --- |
| Product | Availability | Full price | Upgrade price |
| Windows Vista Starter | Available only in selected countries with a new PC purchase. Only product edition which doesn't ship in a 64-bit version (besides the 32-bit version). | n/a | n/a |
| Windows Vista Home Basic | Available at retail. Compares to Windows XP Home. | $199.00 | $99.95 |
| Windows Vista Home Premium | Available at retail. Compares to Windows XP Media Center Edition. | $239.00 | $159.00 |
| Windows Vista Business | Available at retail. Compares to Windows XP Professional. | $299.00 | $199.00 |
| Windows Vista Enterprise | Available for Volume License customers only. Compares to Windows XP Professional. | n/a | n/a |
| Windows Vista Ultimate | Available at retail. | $399.00 | $259.00 |
There will be N (EU) editions of Windows Vista Home Basic and Windows Vista Business available. I don't have any information on the availability of the K (Korean) editions, presumably they will follow the N editions.
Differences between versions
In the table below I list the differences between the various Windows Vista Edittions. I've left the Stater, N and K edittions out of this overview.
Feature

Home Basic

Home Premium

Business

Enterprise

Ultimate

Windows Aero UI ("Glass")

Windows Flip 3D

Live Taskbar Thumbnails

Maximum RAM (64-bit version)
32-bit version Max 4 GB for all editions

8 GB

16 GB

128+ GB

128+ GB

128+ GB

Physical processor support
Unlimited core's are supported on all editions

1

1

2

2

2

Parental Controls

BitLocker Full Drive Encryption

Encrypting File System (EFS)

Scheduled backup
Real-time backup and recovery available on all editions

System image backup and recovery

Windows ShadowCopy

Simultaneous SMB peer network connections

5
10
10
10
10

Remote Desktop

Client only

Client only

Join domain

IIS Web Server

Offline files and folder support

Network Projector support

Windows Media Center

Windows Movie Maker

Limited

Windows Movie Maker HD

Windows DVD Maker

Windows Mobility Center

Partial

Partial

Tablet PC functionality

Touch screen support

Windows SideShow (secondary display support)

Windows Fax and Scan

Support for multiple user interface languages
(36 languages total) available

Subsystem for UNIX-based Applications

Virtual PC Express

Windows Anytime Upgade

To Home Premium or Ultimate

To Ultimate

To Ultimate
So which version?
Most users will have the ability to choose between Home Basic, Home Premium, Business and Ultimate (since the Enterprise version will only be available for Volume License customers). If the above feature list didn't make it clear enough yet, I will spell it out: Home Basic is useless and you should never consider it!
So that leaves Home Premium, Business and Ultimate to choose from. The choice between Home Premium and Business corresponds roughly with the choice today between Windows XP Home and XP Professional.
The Ultimate edition combines the features found in the Home and Business editions of Vista and will have a number of additional features/applications which aren't known yet at this point. I suggest you get Ultimate only if you don't mind paying the extra $$ it costs, otherwise stick with either Home Premium or Business.
Upgrading?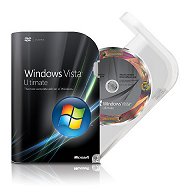 As always, I do not recommend upgrading from a previous Windows version. You should consider your new OS an excellent excuse to wipe your hard drive & start from fresh. This will get rid of a lot of junk you'll have picked up over time, and also has the least chance of problems.
This doesn't mean that you can't purchase an upgrade version: You will just need to insert the previous Windows media as proof of your eligibility.
Windows 95/98/Me and NT user do not qualify for upgrade pricing, so you'll have to pay full price for Windows Vista, and an in-place upgrade is not supported.
Windows 2000 and Windows XP Professional x64 are eligible for upgrade pricing, but can't do an in-place upgrade; they have to perform a full install instead. All other Windows XP users can choose between an in-place upgrade and a clean install.
Windows XP Home Edition can be used to do an in-place upgrade to all versions available through retail, while Windows XP Professional can only be upgraded (in-place) to Vista Business or Vista Ultimate. Windows XP Media Center Edition (MCE) can be upgraded to Vista Home Premium or Vista Ultimate, while Windows XP Tablet PC Edition can only be upgraded (in-place) to Vista Business or Vista Ultimate.
An in-place upgrade means you can install Windows Vista and retain your applications, files, and settings as they were in your previous edition of Windows.
Please note I've talked about the possibilities for in-place upgrading; for example, you can still buy a Vista Business upgrade when you currently have Windows XP MCE. You'll then have to do a clean (full) install instead of the possible in-place upgrade.
Windows Anytime Upgrade
Since all Vista product editions ship on the same install DVD, Microsoft will offer new upgrade options from some versions. Called Windows Anytime Upgrade, this is just a way in which Microsoft allows you to purchase a new product key which will unlock the additional features. According to preliminary information these upgrades should be slightly cheaper than buying the boxed copy of the upgrade version of your choice.
Windows Anytime Upgrade should be available after January 2007.
Give your comments on this article.