Adjust Windows Vista's Internet Time Synchronization
By: Arie Slob
Windows Vista has the capability to automatically synchronize the clock on your computer with an Internet time server. By default, five time-servers are provided: time.windows.com, time.nist.gov, time-nw.nist.gov, time-a.nist.gov and time-b.nist.gov. You can add additional time servers, but you'll have to edit the registy:
Start the Registry Editor
Select HKEY_LOCAL_MACHINE \ SOFTWARE \ Microsoft \ Windows \ CurrentVersion \ DateTime \ Servers \
From the menu choose Edit > New > String Value
Give the new value a number one higher than the preceding one (so the first you add will have the value 6, since 1 throug 5 are given)
Double-click this new value, and enter the hostname as it's Value data
Close the registry editor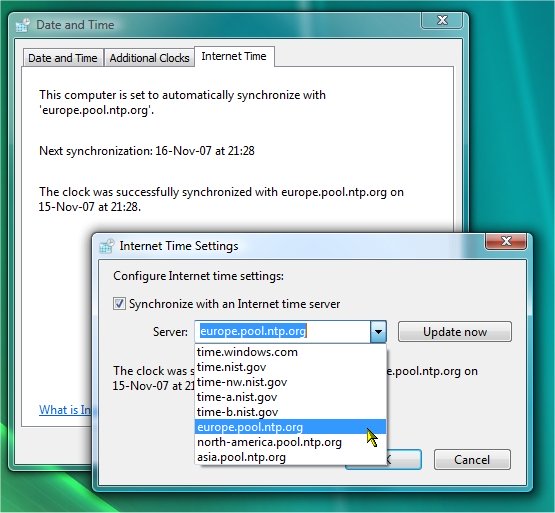 Here are a few servers you can use:
europe.pool.ntp.org
north-america.pool.ntp.org
asia.pool.ntp.org
Your best option is to have a look at this Web site, and select a server close to you.
Note that if you use a firewall, you might have to add the server you use to have access to your computer/network. The Time Service uses the port 123 on the local system.
Adjust Internet Time Synchronization Interval
The time interval for updating is set at seven days. This can also be changed in the registry:
Start the Registry Editor
Select HKEY_LOCAL_MACHINE \ SYSTEM \ CurrentControlSet \ Services \ W32Time \ TimeProviders \ NtpClient \
Double-click the SpecialPollInterval value, and change the Base of the Value data to Decimal (Figure)
Now change the Value data to the time interval you desire, noting that the time is given in seconds (so for one day the value would be 86400, while the default (seven days) is 604800
Close the registry editor
After the next scheduled time-check, the interval would be changed to the one you specified.
'); //]]>

Give your comments on this article.