Frequently Asked Questions (FAQ)
By: Arie Slob
The purpose of this FAQ is to list some answers to simple questions (not meaning that the question is simple, but rather the answer is!), and to provide you with some general information about Windows® Vista™.
Q: Windows Vista?
A: Windows Vista is Microsoft's next generation operating system, formerly known by its code-name Longhorn. Originally announced in 2001, and officially unveiled at Microsoft's 2003 developers' conference, Vista faced numerous delays, with Microsoft scaling back some of its features in order to help get it out the door within the stated target of 2006.
Windows Vista was released to business costomers on November 30th 2006, and will be released to consumers in January 2007.
Q: What's with the name?
A: Microsoft had a list of names to choose from. While they will not say what the other choices are, they included everything from using simple numbers (Windows 2007) to letters (like Windows XP), and more inventive names. Using a process of elimination, they finally decided to go with Windows Vista. Microsoft's slogan for Windows Vista is "Bringing clarity to your world".
Q: So, what about security?
A: Windows Vista will deliver many new or improved security features. Some of these are:
User Account Control (UAC, previously called both User Account Protection or UAP and Limited User Account ot LUA) gives users only the privileges they need to perform their tasks.
Windows Service Hardening monitors critical Windows services for abnormal activity in the file system, registry and network that could be used to allow malware to persist on a machine or propagate to other machines.
Microsoft Internet Explorer 7 in Windows Vista includes many features to help protect against malicious Web sites and malware, and includes protection against phishing and spoofing attacks.
Network Access Protection. Windows Vista has Network Access Protection to help prevent security-compromised computers from connecting to a user's internal network until security criteria (such as the latest updates, security configuration settings or virus signatures downloaded) are met.
Firewall. Windows Vista provides outgoing as well as incoming filtering, which can be centrally managed via Group Policy. This lets administrators control which applications are allowed to communicate or are blocked from communicating on the network.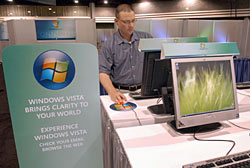 Q: What are the System Requirements to run Windows Vista?
A: Microsoft published two sets of system requirements for Vista. They are:

Windows Vista Capable PC:
A modern processor (at least 800MHz)
512 MB of system memory
A graphics processor that is DirectX 9 capable
Windows Vista Premium Ready PC
1 GHz 32-bit (x86) or 64-bit (x64) processor
1 GB of system memory
Support for DirectX 9 graphics with a WDDM driver, 128 MB of graphics memory (minimum), Pixel Shader 2.0 and 32 bits per pixel
40 GB of hard drive capacity with 15 GB free space
DVD-ROM Drive
Audio output capability
Internet access capability
My opinion: The "Windows Vista Premium Ready PC" requirements are close to the absolute real minimum requirements, except that the CPU requirements are too low. A real minimum would probably be around 2 GHz for a single-core processor, while a dual-core processor could possibly get away with 1.8 GHz.
Q: Will Windows Vista be a 32-bit or 64-bit operating system?
A: Windows Vista will be available in both 32-bit (x86) and 64-bit (x64) versions.
Q: Is there going to be a server version?
A: Yes. It is not known yet under which name that product will be released; right now "Windows Server 2008" is a top runner in the speculation-charts. Microsoft is targeting a 2007 release date for the server product, which is currently known by its code-name "Longhorn Server".
Q: What is WinFS?
A: WinFS (Windows Future Storage), is a database-based storage engine, based on SQL Server 2005. This new file system has some capabilities designed to improve searches for certain files on ever increasing storage media.
Late August 2004, Microsoft announced it would not include the WinFS data storage engine in Windows Vista, but would ship that technology in beta form by the time Windows Vista will ship. It is still unclear if WinFS will actually show up any time soon.
Q: Is Windows Vista more secure than Windows XP?
A: Yes. Not only does Windows Vista build on the security improvements made in Windows XP Service Pack 2 and Windows Server 2003 Service Pack 1, it also has a number of fundamental changes to security added that should make Windows Vista as secure as can reasonably be expected. Like any other operating system there probably will be security threads and the system will require security patches, but overall Windows Vista should do a better job of protecting you & your data.