Microsoft Releases Windows Vista Service Pack 1
By: Arie Slob
Yesterday, March 18 2008, Microsoft released Service Pack 1 (SP1) for Windows Vista to the Windows Update web site.
If you are happy to wait: SP1 will start downloading to PCs automatically beginning in mid-April (only if you have your Windows Update configured to automatically download updates and SP1 will automatically download but not automatically install). But if you want to get SP1 right now, go check Windows Update today (Start Menu > All Programs > Windows Update and click Check for Updates).
Right now SP1 is available in the following five languages: English, French, Spanish, German, and Japanese. According to Microsoft, SP1 will be available in 31 other languages by mid-April.
If in running Windows Update you do not see Windows Vista SP1 listed, there are a number of good reasons for this (Eight in fact, see the whole list). These are a few of the most common reasons why you might not see SP1 on Windows Update:
You have a pre-release version of SP1 and need to uninstall it before installing SP1
You already have it. To determine if you already have SP1 installed, Open the Start Menu, right click on Computer and left click on Properties
Microsoft released SP1 in these 5 languages: English, French, Spanish, German, and Japanese. If you have any other language installed, SP1 will not yet be offered to you
Back in February Microsoft announced that they will be using Windows Update to help make the update as seamless as possible for our users. Windows Update will detect drivers that Microsoft knows may be problematic when updating to SP1 and will not offer the service pack until an update has been installed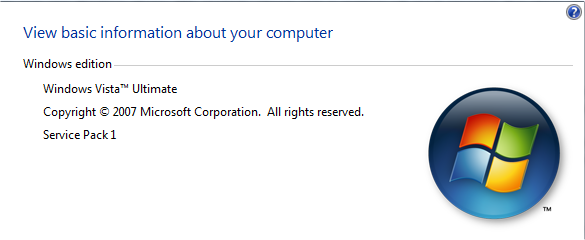 Those of you who find that SP1 isn't offered over Windows Update even after updating all your drivers, but would still like to download it can access the "standalone installer" from the Microsoft Download Center. Windows Update will help ensure a better experience, so if you do choose to visit the Microsoft Download Center make sure that you read the Microsoft Knowledge Base Article on the device driver problems before installing, as well as some more general information on why SP1 might not have been offered to your PC through Windows Update.
You should also take some time to read the Things to Know Before you Download Windows Vista SP1 and the overview of Windows Vista SP1, including what's new, technical details, guidelines and notable changes from Microsoft TechNet.
If you have just one computer to update I suggest updating Vista through Windows Update. If you have multiple computers, get the stand-alone installer from the Microsoft Download Center.
I have been running the betas and Release Candidates, as well as the final build of SP1 without any problems. If you encounter problems, post a message on our Windows Vista forum on WindowsBBS.com.
Give your comments on this article.