Shortcut to Open Network Connections in Windows Vista
By: Arie Slob
One of my early annoyances in Windows Vista was the 'round-about' way you have to follow to gain access to your network connections. In Windows XP, this was easy: right-click any network connection and select Open Network Connections, but in Windows Vista, you'll have to select Network and Sharing Center, and then click on Manage Network Connections.
There's a way around it though:
Right-click an empty space on your desktop, and select New > Shortcut
In the Type the location of the item: box, just type ncpa.cpl and click Next
In the box for Type a name for this shortcut: type a name (for example Network Connections) and click Finish
Now, to change the icon, right-click the shortcut, and click on the Change Icon... button
Select your preferred icon for this shortcut & click OK twice
Now you have one-click access to your network connections! If you prefer you can copy or move this icon to your Quick Launch Toolbar, so you'll have easy access even if you have windows/applications covering your desktop.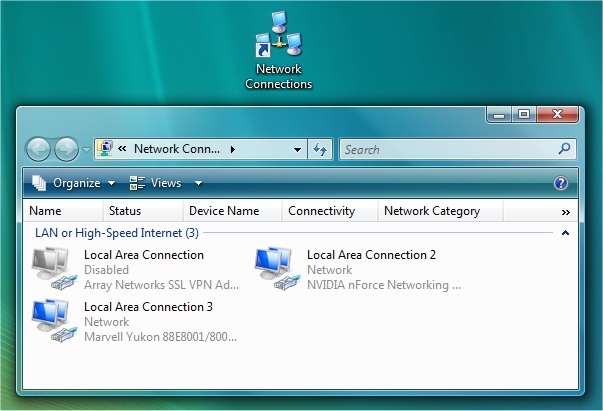 '); //]]>

Give your comments on this article.